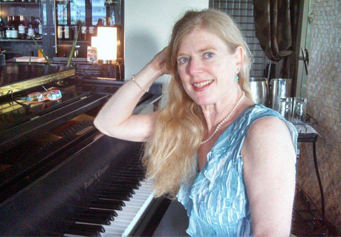 RECORDINGS
(Lisa Bell Benedetto's recordings are under the name Lisa Bell. Please note that there is another recording artist named Lisa Bell)
Check out the links below to hear some of the songs and buy Lisa Bell Benedetto's CDs.
Lisa Bell Benedetto
Pianist – Vocalist – Accompanist – Arranger – Teacher - Composer
MUSIC PERFORMANCE
I have been entertaining audiences all over the country for many years. Whether I am performing solo, with my husband, or with an ensemble of musicians, my vast repertoire is perfect for any occasion. Playing for senior audiences is particularly rewarding. My programs are created especially for their age group and adapted for their level of functioning. I offer an original program called "Sing-Alongs…for the Soul" which is a lot of fun and healthy for all age groups. Piano Improvisation is one of my fortes, especially when sitting in with a jazz band!
ACCOMPANIST
I have been an accompanist for musical shows and solo artists for over 30 years. I have a real knack and sensitivity for being able to follow the soloist beyond the written music. I am also an accompanist and music director for choirs. I have the ability to sight read, transpose on the spot, arrange, write lead sheets and chord charts.
PIANO/MUSIC THEORY INSTRUCTION
I teach piano with an emphasis on music theory. I work with students of all ages and levels. I am also available to coach music theory students. For those who may sing in a choir but can't read music, I offer lessons in learning to read music.
MUSIC COMPOSITION
My piano score for an independent film, "The Stonecutter", debuted at The Santa Barbara International Film Festival. My first CD, the Grammy-nominated "Soulscapes", features my instrumental new-age compositions. I also am a songwriter with a folk-pop influence, as heard on my CD, "Facets".